The Flying Foodie: Hobart
Alana savours the Apple Isle
Alana Lowes takes you on a voyage to Hobart and beyond to sample the gourmet artisan producers Tasmania has to offer. Along the way she meets some of the locals with a very funny take on why Tasmania is now producing world-class produce.
"Global warming is the best thing that has ever happened for Tasmania," reveals Greg Ball from the Cool Wine Shop, along with a cheeky grin. "When the champagne region in France becomes too hot to produce chardonnay and pinot grapes, Tasmania will be the place the world turns to," he claims, adding, "they're already here, some of Australia's biggest wine producers now have vineyards here."
Whether you believe global warming is occurring or not, Tasmania, with its allure of natural beauty, has stepped out of the shadows of mainland Australia. It has become the go-to destination by food loving producers for its perfect growing temperatures and rich soils and well, the rest of us head to the island, far down under as food eating devotees.
I'm only in Hobart for a two-day "taster" and the best and indulgent way to sample local produce is with Gourmania Food Tours. Tassal Salmon Shop is where I meet up with Mary McNeil, sixth generation Tasmanian, Gourmania Food Tours owner and tour guide. Born and bred in Hobart, her passion for food is drawn from her globe trotting work as a pastry chef before settling back in Hobart with her family.
With samples of salmon up for tasting, Mary tutors us on each of the gravlax and hot and cold smoked portions as we eagerly nibble away. She educates us about the use of beechwood to smoke the salmon, as other varieties of wood would be far too strong and overpower the pure flavour of the fish. The hot and cold smoked salmons both melt away in my mouth with a lingering hint of the burnish notes. I couldn't agree more with the choice of wood, perfectly balanced. The gravlax has a touch of sweetness from the curing process and the freshness of herbs keeps it delicately light. Mary chimes in at this point, telling us, at home she cures her fresh Tasmania salmon in beetroot powder. This results in a pink hued flesh, which would look wonderfully vibrant sliced and served on a plate – notes taken to try this at home.
From salmon to the European style, gourmet deli of Wursthaus Kitchen. It feels like I have stepped into a Hobart institution as locals flock in numbers to choose the best meat and small goods Tasmania has to offer. We sample Turkey - grown to the perfect size we are told. Then there is pastrami with a lovely herb crust and hickory smoked drumsticks. The tasters leave me salivating for more, but this is quickly abated when I spy the cheese "rotunda". It is lovingly stocked with local cheeses made from cows, goats and even sheep. I make a mental note to visit the Grandvewe Cheesery on my self-drive tour tomorrow, as I am intrigued to taste the sheep's milk cheese.
We weave our way out of the sandstone warehouse lined Salamanca Place and into the city centre for our coffee stop. Jackman & McRoss Bakery is famous for their extensive selection of bread, pastries and sweets, all baked on premises. A flaky buttery pastry topped with sweet roasted onions and goat cheese complements the coffee. Mary, a wealth of local knowledge, announces to the group that Tasmania provides 33% of Australia's onions. The humble onion now has a home in my heart and I will forever thank Tasmania as I cut and cry into my next batch of homemade caramalised onions.
As we wind our way through Hobart's city centre, Mary points out other places we must try while on holidays here. Villino Café & Coffee serves up perfect coffee teamed with latte art from Tasmania's Latte Art champion, Andy Nairn and Spice World is filled with native and global spices to stowaway in our suitcases.
Cool Wine Shop houses an impressive selection of wines and beers from across the globe, but we are here solely to savour the finest local producers from Tasmania. Our dashing host, Greg Ball, guides us through a wine flight beginning with a mineral and citrus characterised Riesling, followed by a soft fruity Sauvingnon Blanc. The stand out for me is the 2014 Clarence House Estate Tempranillo with its full red fruit flavours, it would be right at home with most meats. "The Tempranillo is a spanish variety and this is the best example we've seen in Australia," boasts Greg.
From wine to whiskey, Lark Distillery is just a short saunter back down the hill into the historic wharf section of town. Here we are treated to the flagship single malt whiskey, Classic Cask. The secret to the pure and deep flavour of their whiskey - the Lark Distillery brews their own beer to distil. The whiskey is also matured in barrels in a tin shed where the inconsistent fluctuating temperatures help develop a rich and big finishing malt whiskey.
We end the tour back where we started and I thank Mary for a fabulous introduction into the incredible Tasmanian produce available right in the heart of Hobart.
Day two of my tour and it's up to me to self-drive and venture into the Huon Valley, but not before dropping into meet with Giovanni Zito. Giovanni is Tasmania's finest craftsman of handmade chocolates and his world famous nougat at Nutpatch Chocolates and Confectionary.
"Blink and you will miss" is the appropriate cliché for the tiny little shop front housed in the old Kettering servo. Kettering is a short country drive to the south west of Hobart. Giovanni is seated out front and greets me with a wide friendly grin and hustles me into his shop. The unassuming façade conceals a Willy Wonka wonderland. The sweet scent of chocolate hits my nose, but my eyes spy large barrels of melted chocolate whirling around like a dervish. The dark, milk and white Belgium chocolate vats are the starting point for each perfectly handcrafted sweet. "We make every single chocolate here and the Amore is my favourite," says Giovanni. The Amore was designed especially for his wife he explains and he insists I try this one first. The hazelnut praline with flecks of nougat is enrobed in dark chocolate and melts instantly as it hits the tongue with a linger of chewy nougat. "Now you must try another," Giovanni presses. "The Neve", a Madagascan bourbon vanilla base fill with a milk ganache spiked with rose water is up next, followed by the crème brûleé. My chocolate indulgence is finished with sneaky sample of his creation for the luxurious Saffire Freycinet Lodge - a sweet caramel encased in dark chocolate topped with black salt, the perfect combination of sweet, salty and bitter.
When I can no longer eat another chocolate, I bid farewell to Giovanni and his wonderland and amble down the road to Grandvewe Sheep Farm, Fromagerie and Hartshorn Distillery. Ryan Hartshorn, head distiller and 1/3 of the family run business, meets me in the cheesery. He informs he is in the middle of hand bottling his current batch of sheep's whey vodka. "Each bottle is hand painted so I can only do small amounts at a time," Ryan tells me. The distillery is at home under the cheesery and looks a bit like a mad scientists lab. Large balloon glass barrels filled with aging batches of vodka, which Ryan continually samples to perfect his craft. This is what excites me about Tasmania, the real deal artisan creations. I question the use of sheep's whey to make his vodka. "We were just throwing away all of the whey as waste and I started experimenting to see if it could be distilled," he says. "The vodka is unfiltered therefore the flavour is more intense, but distinctly smooth," Ryan joyfully tells me and I absolutely agree. The vodka is slightly sweet, smooth on the palate and the soft finish has you reaching for another sip. "It's a vodka made for sipping to taste all of the flavours rather than as a mixer," Ryan advises. We sit down in the cheesery to sample the cheese products, which is open to the public. The award wining Sapphire Blue is a favourite and tickles the tongue with the robust blue flavours. Unfortunately the sheep milking is only on once a day at 3pm and I have to head off to my next foodie spot. However, I didn't miss out on giving the sheep a cuddle, the paddocks are directly outside the shop.
From cheese and vodka to cider, I make my way into the heart of the Huon Valley. The Apple Shed is a refurbished apple packing shed and houses an apple museum, a providore shop celebrating Tassie produce, a café and most importantly the cider house serving Willie Smiths cider range. Andrew Smith, fourth generation apple grower and co-owner of Willie Smiths Organic Cider tells me the cider brand was born out of the need to value add. "All the blemished fruit which the supermarkets won't take is perfect for making cider," he states. I ask him to pose for the typical "farmer checking the fruit" photo, "aaah the dumb farmer photo" he laughs – farmer photo yes, dumb no way. The award winning organic cider range is the first of its kind in Australia. It is fresh, crisp and unadulterated without the use of sugar or additives. The apples aren't just perfect the cider, I spy an apple pie in the café even my grandmother would envy…when in Rome as they say!
As I sit on my Virgin Australia flight bound for home, I look out over Hobart, through the most pristine clean air in the world and to the fertile soil below and vow to return very soon to taste more of the delights the little island down under has to offer.
Alana Lowes was a guest of Tourism Tasmania and Virgin Australia and stayed at Sullivan's Cove Apartments.
---
More about Alana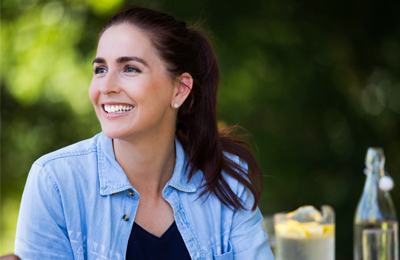 Alana Lowes is a celebrity cook of MasterChef pedigree, and has travelled the world as The Flying Foodie for Virgin Australia. Read more of her articles on The Flying Foodie homepage.
She also launched the Alana's Pantry range of products and is the Editor for lifestyle magazine, Life Begins At.
To see where Alana is jetting off to next or what is on her dinner plate, follow her on Instagram and Facebook 
Episode Images
Virgin Australia Holidays Disclaimer:
Discover more about The Flying Foodie: Hobart