Friends in High Places: The Creases
This month we've been spinning 'TREMOLOW', the debut record from The Creases, on repeat. The garage-pop band from Brisbane is starting to make a lot of noise on the airwaves and in the air alike, as a feature on our In-flight Entertainment System. Check out our interview with these four frequent flyers below.
✈ Congratulations on the killer album! We're curious to know, what does 'TREMOLOW' stand for?
The word 'tremolo' is a musical term and an effect that describes the pulsating up and downs of volume- something that we used a lot of on the record when recording guitars. We've had a lot of highs and lows as a band over the past few years leading up to this record. When we started using tremolo with a 'w' on the end as a working title for the record it felt really suitable in describing the journey of making the record.
✈ You guys have flown with us a lot and it's always a pleasure to see you in the skies. Have you had any particularly memorable experiences on board?
Whenever we find a song or music video of ours on the in-flight entertainment it's always pretty funny and special. It's even better when a random person is watching or listening with us unknowingly sitting right next to them.
✈ We've heard you like to get creative in The Lounge. Can you share any secret recipes/innovations?
When you are visiting the lounge twice a day on tour, sometimes you kinda need to get creative to keep it fresh! We've made everything from ham quesadillas to nachos using the toaster in creative ways. We're continuing to expand our personal lounge recipes with every visit! We usually only have 5 mins to eat before a flight so we go for a ham and cheese toastie.
✈ It seems like you guys have been touring non-stop over the past couple of months. How do you stay healthy in the skies and behind the scenes? 
That's correct! We try to eat a lot of greens and take our vitamins. We also try to have a break from drinking, though the lounge bar selection means we often break this rule.
✈ How do you like to pass the time on long-haul flights? Do you have any inside, in-flight tips?
We all have our own things we like to do but we usually listen to podcasts, play around on our phones or make music on our computers. We actually look forward to the longer flights so we can watch full movies on the in-flight entertainment. We love our films!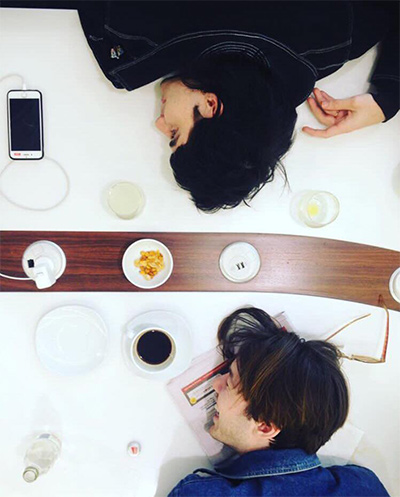 Aimon & Emerson taking 5 in The Lounge 
Flying with us soon? Make sure you download our In-flight Entertainment App so you can listen to TREMOLOW on board. If you like what you hear, check out www.thecreases.com to find upcoming tour dates, merch and more.